Lewis Hamilton landed his second Formula 1 Drivers' Championship in 2014 and the Brit is 3/5 favourite to become the fourth man this century to win consecutive titles.
He will have legions of backers to do just that having landed a dominant 11 wins last term, easily the best haul of his career to date.
Prior to 2014 his finest season behind the Formula 1 wheel in terms of victories was his title-winning campaign in 2008.
Those looking to invest in the Mercedes man's title challenge need look no further than bwin10002.com, where backing him to win is the gift that keeps on giving.
Bet £25 or more on Hamilton (or any of his rivals) to win the Drivers' Championship with the boys in black and gold before the first race begins and receive a £5 free bet every single time he wins.
Last term punters would've received £55 worth of hazard-free betting ammunition thanks to the 30-year-old's visits to the peak of the podium.
If Hamilton's career to date is any guide, anyone who takes up the gauntlet thrown down by bwin's Formula 1 odds moguls for the 2015 campaign will be rewarded with a free bet or two at the very least.
As the graphic below illustrates, he has scored at least once in every season he has contested, at Grand Prix circuits all across the globe.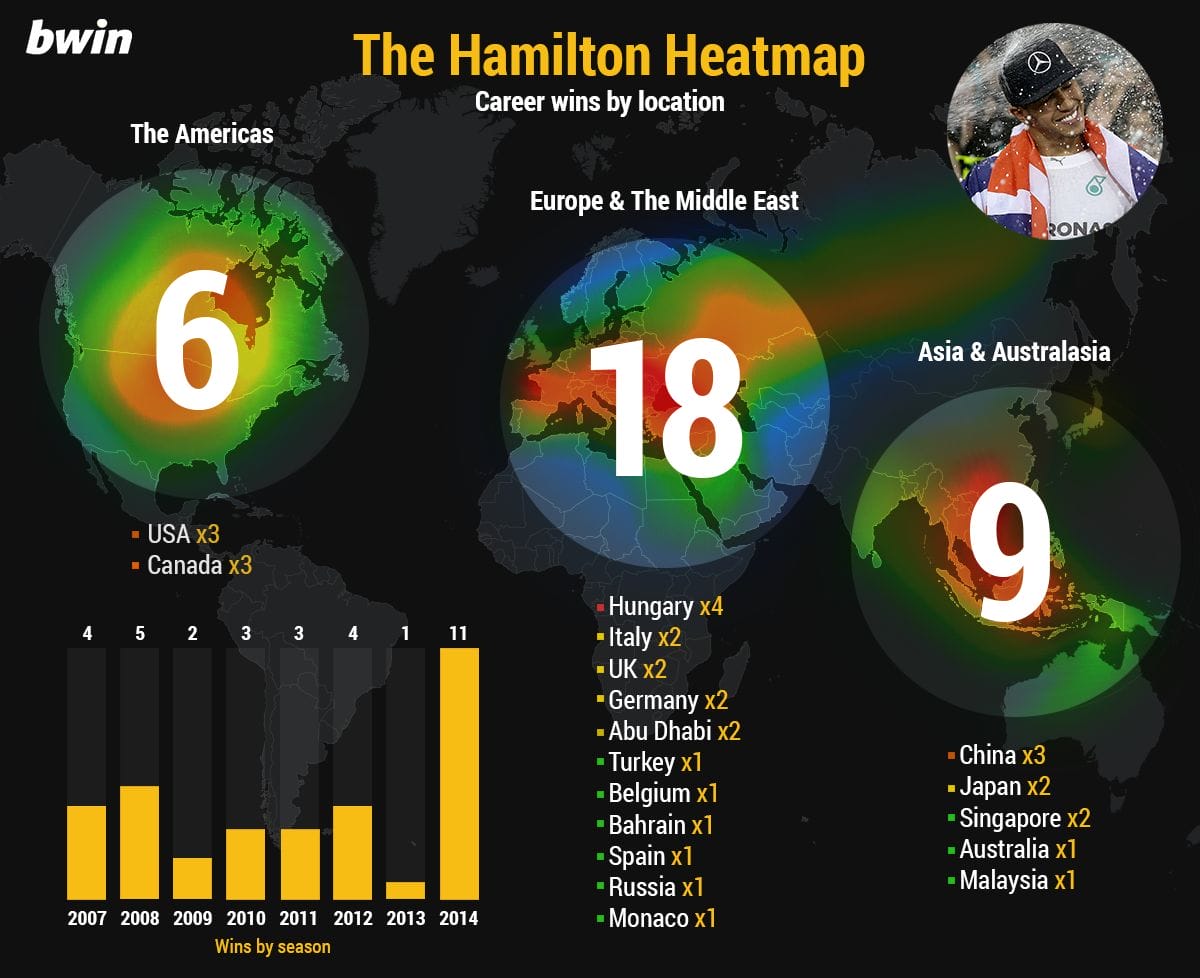 Hungary is out on its own as Hamilton's favourite haunt, with four chequered flags taken over his eight campaigns in the cockpit.
However, punters can be almost as expectant of a dividend on their Drivers' Championship investment after rounds three, seven and 17 when he visits China, Canada and the USA, where he has bagged career hat-tricks.
The Mercedes star is even money to reward his title backers with a free bet at the first opportunity in Melbourne.
Sign up at bwin10002.com for yet another £30 free bet that delivers a no-risk profit of identical proportions if he takes the laurels.