For United Kingdom-based football fans who don't possess a satellite dish Lionel Messi has long been more myth than man.
Glimpses of his majesty are limited to the rare occasions when Barcelona play an English side in the terrestrially televised Champions League, or the rarer still cases of him shining for Argentina at the World Cup.
Those same fans know far more about Cristiano Ronaldo's abilities due to the man from Madeira's exploits at Manchester United.
As such non Sky-subscribing Brits could be forgiven for falling down on the side of the latter in world's best player debates.
It's an opinion that Messi's last-gasp penalty and rebound double fail against Manchester City on Tuesday evening will have done little to alter.
Taking penalties is one aspect of the extra-terrestrial goal-getter's skillset in which CR7 is irrefutably better than his sole contemporary.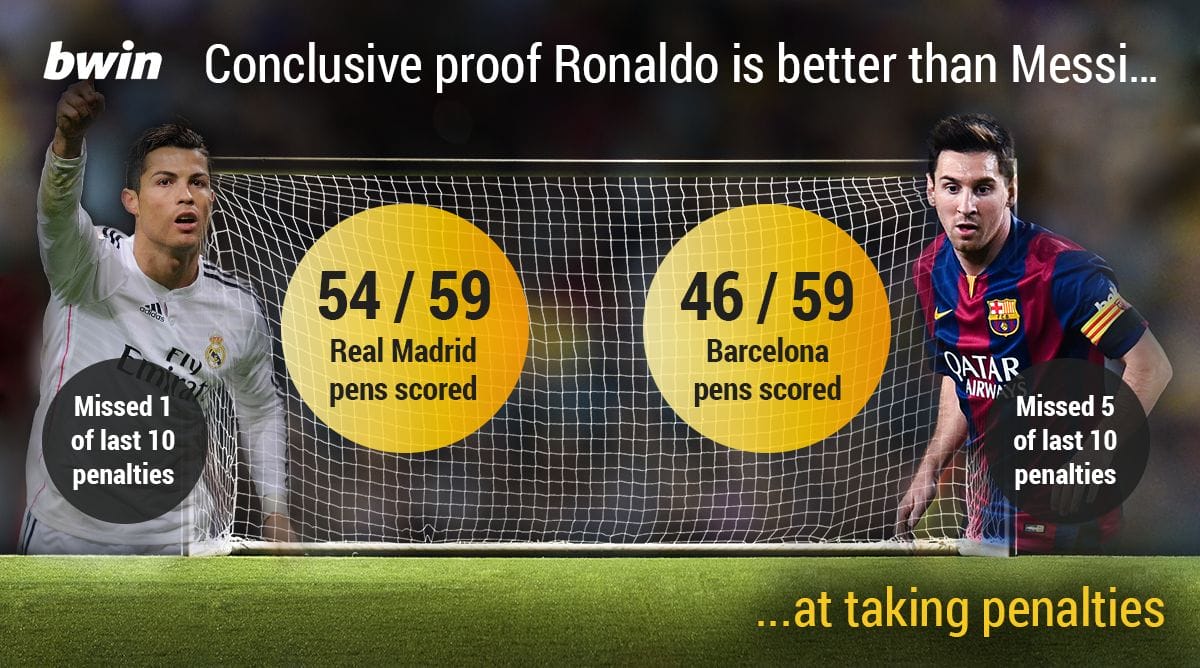 Messi has fluffed an average of one penalty in every 4.5 he's taken for Barcelona during his career in Catalunya – he's no Rickie Lambert.
Ronaldo has been more reliable from 12 yards for Real Madrid, missing under one spot kick in every ten for the club.
The Argentine's affliction only seems to be growing more acute in recent penalties too, with an England-at-a-major-tournament-rivalling five bloopers from his last ten attempts.
Conversely Ronaldo is a model of consistency, converting nine of his last ten from the spot, just as he has done since his arrival at Santiago Bernabeu.
Messi remains 27/20 favourite to be Champions League top goalscorer in 2014/15 despite seeing CR7 erode the gap between the pair to two goals with the opener against Schalke last week.
The Real Madrid man's 12-yard expertise could prove vital if he is to land odds of 2/1 about matching El Catalan by claiming a fourth golden boot in the competition.